We are proud to announce another win under our belt from this year's prestigious TUC Communications Awards Ceremony.
Our Votr 2015 web app won an award for Best Digital Membership Communications. The judges described it as a 'smart digital innovation [that] surely engaged members and brought a real-life event – the election – to life…. [They] liked the fun of the Tinder-like swipe, the high level of personalization through the platform and the fact that its insight-based data drove personalised information to participants later.' Yay!
The category for communications to reps and activists also saw a great result for UNISON, with our online Organising Space delivered by colleagues in the Strategic Organising Unit picking up a commendation. The judges here thought the interactivity and cross-community communication might just be a trend-setter for the future… let's hope so!
Finally, we were highly commended for our Tax Credits campaign, which had a strong digital element to it, in particular our tax credits calculator which was used 80,000 times, our email your MP action which was used 2,500 times, Google Maps showing the scale of the problem and a whole range of social media work. They judges particularly called out the use of Google Maps as 'innovative'.
Congratulations to all those involved in the above – and all the other unions too. As I said on the night, I'm really looking forward to seeing what unions produce for the new digital category in the coming years, and for all the other categories too (as of course digital has a role to play in them all!)
What was Votr 2015 and how did it fit into the UNISON general election campaign?
Votr 2015 was a light-hearted web app that allowed UNISON members – and the general public – to swipe left or right and share their thoughts on on a range of topics at the heart of the 2015 general election campaign, including tax and the NHS, who should run local schools, the number of bobbies on the beat, and pedestrians and their mobile phones.
It was an attempt to break the mould of traditional union communications, offering a quick, easy-to-use and fun way of seeing how a person's views match those of other potential voters in different parts of the UK.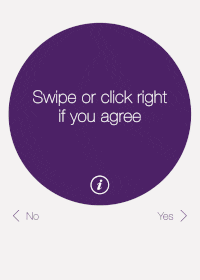 It was an important part of UNISON's general election communications campaign. By using Votr 2015, members let us know their views on a number of issues that UNISON was campaigning on – and some that we weren't.
We contacted these members to highlight where UNISON's position matched theirs. We then shared our understanding of where the political parties stand on these issues.